Curacao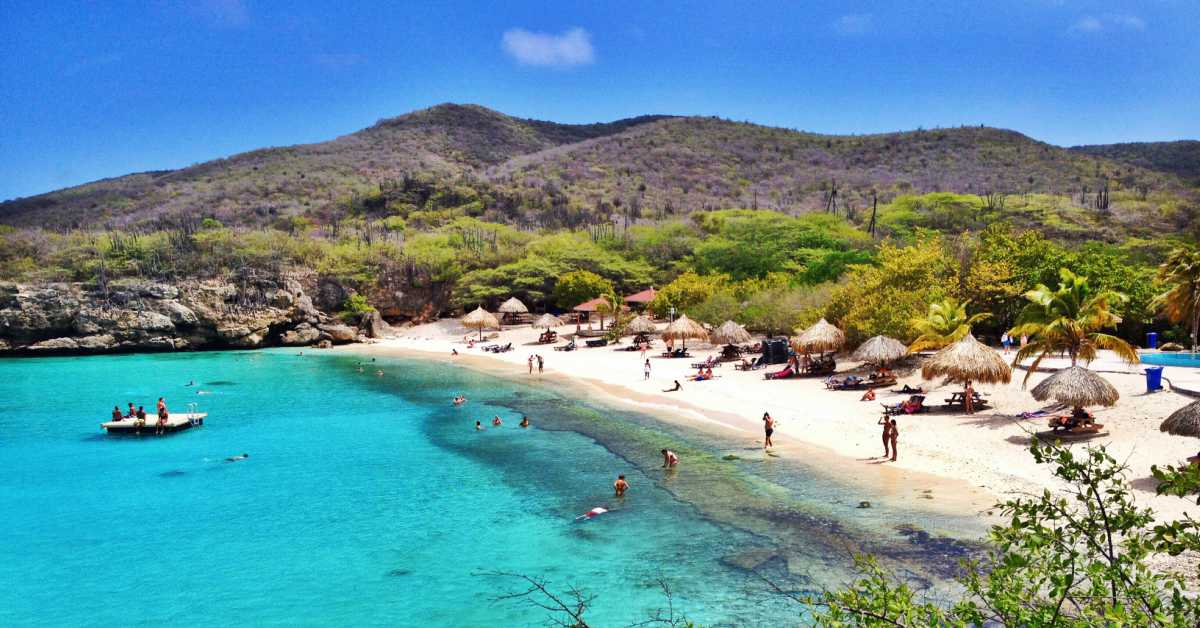 Curacao is a long, arid, and generally flat island, stretching some 40 miles (64 km) from southeast to northwest, at much the same north-south angles as it's sister islands in the ABC group (Aruba to the west and Bonaire to the east). The island is about 10 miles (16 km) at it's widest point, and the area is about 180 square miles (472 square km), making it the largest island in the Dutch Caribbean Islands group.
The coastline along the south is irregular, peppered with small bays and inlets, including the spectacular bays and beaches at the west end of the island. The largest bays are located along the central-east and east end of the island, where you'll find the capital and major port of Willemstad. Most of Curacao's 130,000 residents live in and around this historic town.
The long north coast of the island, buffeted by constant northeast trade winds, is characterized by a rough coasthne, limestone cliff formations set on top of eons-old volcanic rock, and weather-beaten terrain. It is generally less inhabited than the south coast, but you will find smaller villages and many of the island's famous landhuis, or old plantation house, structures here.
The west end of the island is also characterized by expansive, hilly terrain, most of it encompassed by Christoffel Park. The 4,500-acre (1,820-hectare) park contains Mt. Christoffel, at 1,239 feet (377 meters) the highest elevation on Curacao. The east end of the island comprises flat and mostly barren plain, with few settlements and some secondary roads weaving to and from its coastal inlets.
With an average 20 inches (510 mm) of rainfall yearly, Curacao is generally a dry island. There are few standing bodies of water save some saline ponds, and most of the island's water is provided by a large desalinization plant found on the south coast.
Country
curacao
Visa requirements

Tourist entry is generally only for 30 days, but a maximum of 90 days may be given. Extensions are available at immigration. Dutch passport holders may stay for up to 180 days, but must get an extension first from immigration. Tourists who apply for an extension beyond the 30 days must have travel insurance (medical & liability) for the duration of their extended stay.

Entry Requirements - Passport validity

You must hold a valid passport to enter Curaçao, a return or outward ticket on arrival, sufficient funds for accommodations and food and the necessary documents for returning to the country of origin, or further travel elsewhere.
For further information on exactly what will be required at immigration please contact the Dutch Embassy or Consulate in your country.

Visas for the Caribbean parts of the Kingdom of the Netherlands

As of 10 October 2010 it is possible to visit more than one Caribbean part of the Kingdom of the Netherlands using a single visa. The visa is valid for all parts of the Kingdom of the Netherlands in the Caribbean for a visit as a tourist or for a short stay in the countries Aruba, Curaçao and St Maarten and for the Dutch Caribbean islands Bonaire, St Eustatius and Saba.

If you need a visa for the Kingdom of the Netherlands in the Caribbean and how to apply: www.government.nl

Nationalities not required to obtain a visa & the visa waiver programme

For the Caribbean part of the Kingdom of the Netherlands (the countries of Aruba, Curaçao and St Maarten) and the Caribbean Netherlands (the Dutch public bodies Bonaire, St Eustatius and Saba)

NB: Russian nationals living in the Baltic States who hold alien's passports issued by Estonia, Latvia or Lithuania do not require a visa for Curaçao, but do require one for Aruba.

Visa waiver programme for certain categories of nationals

Below follows a summary of visa exemptions applicable to certain groups of nationals of third countries that usually require visas.

Holders of a valid multiple-entry short-stay visa for the Schengen Area
All holders of a valid multiple-entry visa for the Schengen Area are exempt from the visa requirement for the Caribbean part of the Kingdom.
Holders of a valid multiple-entry visa for the US and/or Canada Nationals of the following countries are exempt from the visa requirement for the Caribbean part of the Kingdom on condition that they hold a valid multiple-entry visa for the United States of America and/or Canada.

Languages spoken
Dutch is the official language, while Papiamentu is the most common. Spanish is also spoken by most Curacaons, and English is widely used.
Currency used
Netherlands Antillean guilder (ANG or Nafl)
Area (km2)
izes: max 9.94 mi / 16km wide and max 39,8 mi / 64km long Area: 182,2 mi2 / 472 km2 Highest point: Sint Christoffelberg (1,220 ft / 375 meter)