Availability
We are sorry, this accommodation is not available to book at the moment
General
This luxury villa with breath-taking panoramic views resides in the most sought after estates in Curacao with privacy and 24/7 security. The design and the fittings make this villa a real jewel.
The villa has an open living room with beautiful views. It has 4 spacious airconditioned bedrooms with ensuite bathrooms. The master bedroom has a kingsize bed, two bedrooms have a queensize bed and the fourth bedroom has 2 queensize beds. Daily maid service is also included.
While swimming in the pool and relaxing on one of the spacious terraces you can enjoy the stunning views overlooking the cliffs and the South Caribbean Sea. This truly unique villa is nestled high atop of a cliff with a 360 degree view of the inland sea, the Caribbean sea and the salt marshes with flamingos.
Design villa by Jan des Bouvries
Panoramic ocean view
WiFi
Suitable for Families of all ages, couples, friends and groups
Flat Screen HD TV
En suite bathrooms
Quiet inside
gated resort with restaurant, small beach and diving centre
Top quality security
Minimum stay 4 nights (Christmas min. 7)
daily cleaning
From the villa, all hot spots are accessible within a few minutes.
Hato Airport: 15 minutes (by car)
Cas abou Beach: 10 minutes (by car)
Willemstad: 30 minutes (by car)
Westpoint: 15 minutes (by car)
Kenepa Grandi beach: 15 minutes (by car)
Christoffelpark: 15 minutes (by car)
Blue Cave: 15 minutes (by car)
Shete boka national park: 20 minutes (by car)
At Key Caribe we pride ourselves on your satisfaction and you can be rest assured knowing that our villas are suitable for a range of people.
For a video impression of the house see the link below.
Facilities
Air Condition
Airport Shuttle Service
Car hire
Cinema
Hotspots
Lounge
Outdoor pool
Private bathroom
Seating area
SPA
Telephone
TV
Valet parking
Washer
WiFi
We are sorry, there are no reviews yet for this accommodation.
Curacao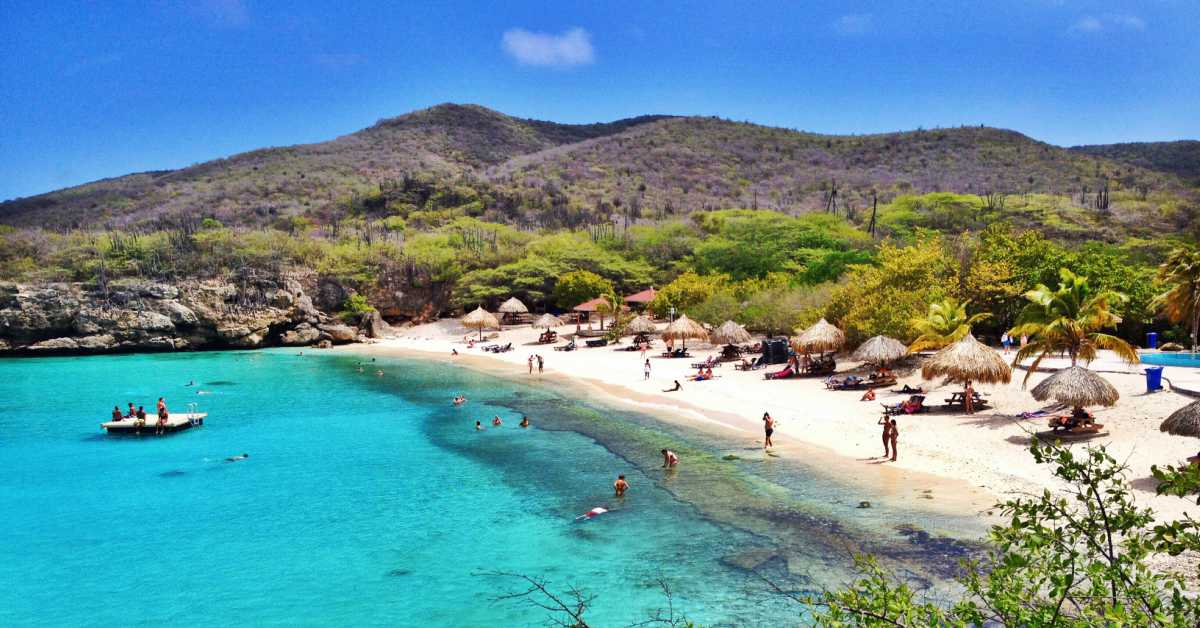 Curacao is a long, arid, and generally flat island, stretching some 40 miles (64 km) from southeast to northwest, at much the same north-south angles as it's sister islands in the ABC group (Aruba to the west and Bonaire to the east). The island is about 10 miles (16 km) at it's widest point, and
Sports & nature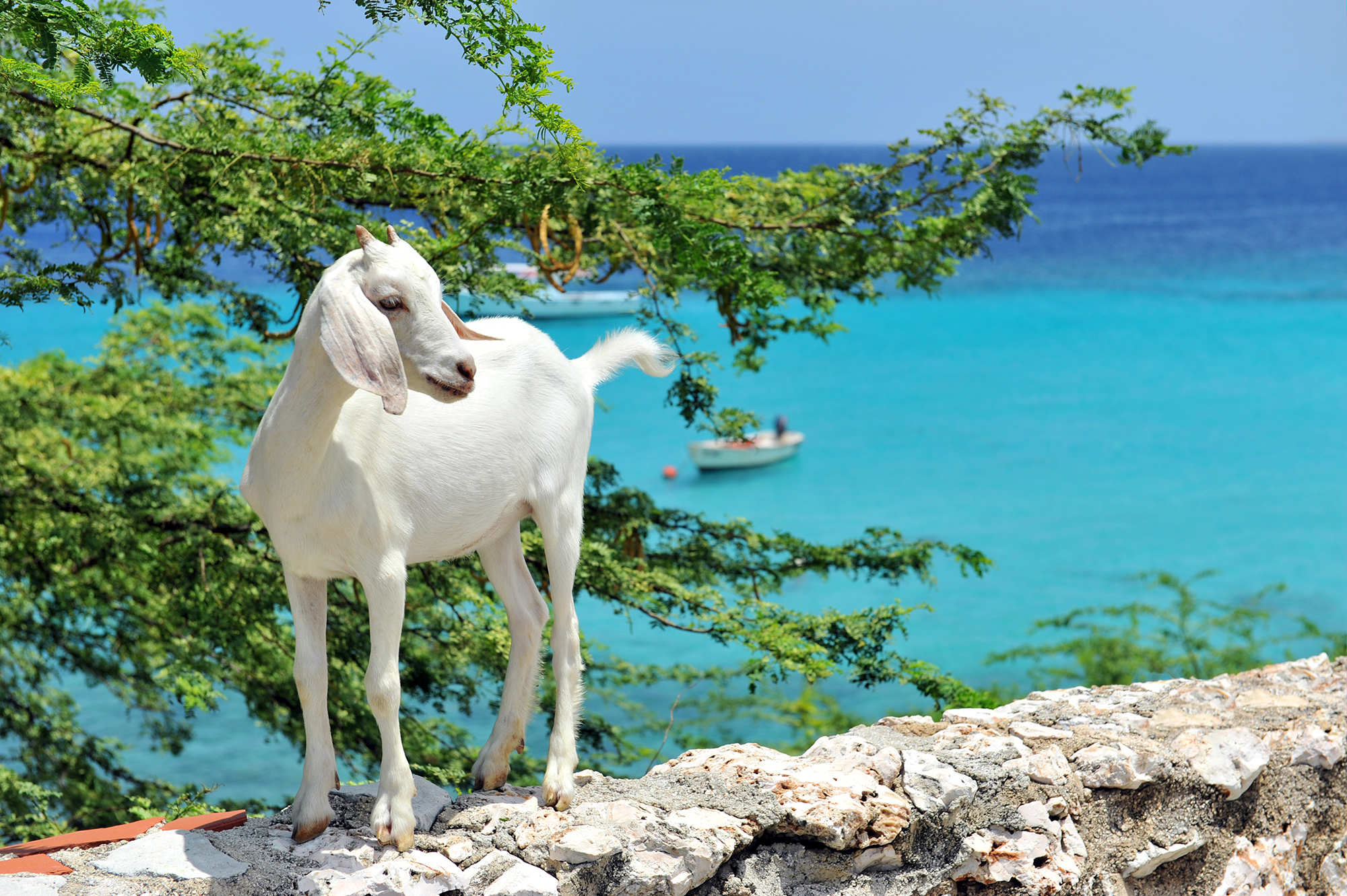 The island has many sights and attractions, we selected the finest for you. As many Caribbean islands, Curacao has several National Parks including the impressive "
Christoffel Park
" which is a 40-minute drive from downtown Willemstad. And we can recommend you to visit the National Park "
Shere Boka Park
" as well. Here you enjoy the rough coast and see the
Natural Bridg
e of Curacao. Centre of it all is the bustling city of Willemstad. When you want to get away to find some quiet, you will find it easy to find the sights of Curacao. There is plenty to see and do in the cunucu (countryside). Just north of town, near Hato International Airport, are the Hato Caves. The caves, gouged out of limestone cliffs ages ago as the island emerged from the sea, are still forming, albeit by one drop at a time. At the west end of the island is the impressive Christoffel Park, part of the island's national park system since 1978. The park, about a 40-minute drive from Willemstad, is the home of the 1,239-foot (377-meter) Mt. Christoffel, the island's highest point, as well as dozens of species of trees and plants, including an orchid forest, birds, lizards, and sea life, including nesting sea turtles. One of Curacaos' national parks is
Shete Boka Park
(seven bays or coves). It covers approximately 6 miles on the rough coast with multiple coves where various turtles lay their eggs. Better known spots in the park are among others: Boka Table and the natural bridge of Curacao. Far away from the hustle and bustle of Curaçao's Punda and Otrobanda districts lies a remote, coral island with white sand beaches, crystal clear water, a spectacular reef and colorful sea life. The flat, wind-swept island of Klein Curaçao (Dutch for Little Curaçao) is a mecca for divers, snorkelers and sunbathers. Klein Curaçao lies 15 miles off the southeast point of Curaçao and is just a two-hour boat trip from Spanish Water. Curacao has many museums to visit. The most famous is '
Het Curaçaosch Museum
', with a collection of paintings, etches, drawings, statues, furniture, glass and much more..., The '
Maritiem Museum
', which takes its visitors on a discovery tour of more then 500 years maritime history of Curaçao.
Nightlife info
The day is coming to an end, but you're adrenaline is still pumping from your time spent exploring Curacao.  Don't go back to your resort and hop into bed just because dusk dictates it be so.  Make the most of your vacation time by enjoying the island's nightlife. Curacao has a pretty outstanding night time scene, perhaps the most impressive in all of the ABC islands.  There are numerous bars and clubs to visit, but if you want to visit the hottest spots, head to the nearest tourism office and pick up a copy of K-Pass, a weekly publication that outlines that weeks happening events and locales. Or, you can play it safe and head over to the Salinja district, where most locals will agree has the most pumping nightlife.
Bars
Beach Bars are a common hang out choice for vacationers, because it allows them the close proximity to the beach that they crave. 
Baya Beach Lounge
is one such bar that features a deck where patrons can soak up the sea breeze while they drink. If visiting a traditional Dutch bar interests you, check out
Cafe Old Dutch
.  Meanwhile, each weekend live music (mainly salsa) is the attraction at
Chobolobo
.
The
Christoffel Sunset Lounge
in Westpunt is considered one of the best places on the island to watch the sunset.  The bar has a completely laid back feel, with snacks and sports on the big screen setting the tone. The hot place to be on Wednesday nights is
De Gouverneur
, where jam sessions make up the entertainment. Cocktail hour is every hour at
Fort Waakzaamheid Tavern
, which also features breathtaking views of the island. If you are interested in sampling a local brew, head to
Grand Café de Heeren
, where Amstel Bright is served. Not many bars on Curacao have the requisite pool table that American's are used to, but the
Hook Hut
in Piscadera Bay does.  Despite it's poor shape, you can rack em and shoot em while throwing back a few beers.
Lyric's Cafe
is Curacao's only gay bar.  The bar features a lounge, bar, and dance pole, and spins a mix of Latin and pop music. Named for jazz legend Miles Davis, Curacao's new jazz cafe
Miles
features sophisticated cocktails, a relaxing yet hip atmosphere, and of course, jazz music. In Rif Fort Village is the
Piano Bar
.  Each night features live music by local and international artists on the piano, dancing, and mixed cocktails. On the property of Plaza Hotel Curacao in Punda is
Shooters Bar
.  Monday's and Friday's feature live musical performances, but the rest of the week patrons usually show up for the mixed drinks and views of St. Anna Bay. Though the word "club" is right in the title, the
Wet & Wild Beach Club
is more bar than night club.  There are nightly drink specials, free barbecue during Friday's happy hour, and a DJ spinning hits on Saturdays. While there are many stand-alone bars, a few also exist in conjunction with popular
restaurants
.  At these locations you can grab a bite to eat before grabbing a stool and hanging out at the bar.  A few worth mentioning include
Asia de Cuba
,
Blues
at the Avilla Beach Hotel in Penstraat, 
Avalon Social Club
,
Kasbinini Cafe
in Willemstad,
Mambo Beach
at the Seaquarium Beach, and
Ole Ole Jazz Club and Restaurant
in Willemstad.
Nightclubs
Bermuda
is a great place to visit for those who want to be able to hold a conversation without screaming, but hit the dance floor as well.  The dance floor is alive with top of the line sound and lighting effects, but the lounge is a casual place to catch up with friends. One of the most popular nightclubs on Curacao is
Club X-Clusive
, where lighting effects and a DJ make dancing exhilarating. While nightclubs tend to be frequented by a younger crowd to begin with,
Club Zen
is especially popular with those who have just come of clubbing age.  Music alternates between being spun by a DJ and performed by local bands. 
Facade
, meanwhile, is a dance club frequented by guests of all ages. Three dance floors and a huge bar are the draws here. On weekends, dancing is fun at
Emerald Lounge
, where Friday has been dubbed "salsa night."  Saturdays the DJ breaks out the jazz and soul classics while patrons sample their signature frozen mojito and dine on appetizers of sushi.
Other After Dark Entertainment
...there is so much to do after dark.
You don't have to spend your night drinking and dancing to have a good night on Curacao.    Movies are a common go-to, especially for families.  The
Cinemas
and the
Movies Curacao
are two options, both located in Willemstad. 
Teatro Luna Blou
also shows films in a limited basis, though they specialize in live theatrical and musical performances. Another family friendly option is bowling. 
Tropical Bowling Club 3000
in Willemstad has 10 lanes as well as a restaurant and bar. Early bedtimes are unheard of for Curacao's vacationers, since there is so much to do after dark.  Have a drink by the
beach
, dance all night, or spend some family time bowling, but whatever you do, make it count.  Every moment spent on Curacao is a memory waiting to happen.
Culture and history info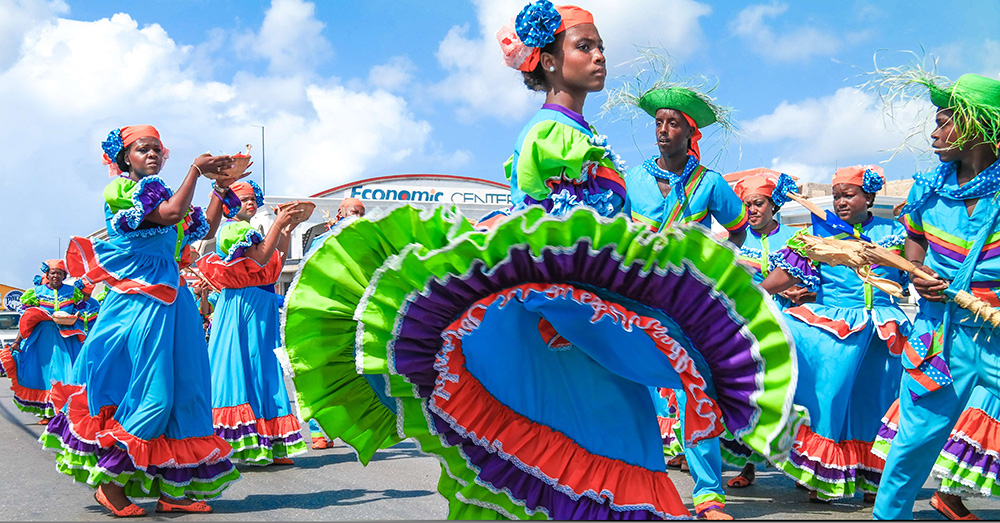 Atypical for the Caribbean, Curaçao has a rather peculiar history. The English-speaking, Afro-Caribbean island is as sunny and as it is friendly, though it has a distinct Dutch flavor, with its pastel-colored buildings and double-Dutch signs. Home to a large variety of people, the island has rich festivals as one of its highlights.
History
The Arawak Indians were the first to settle Curaçao, as evidenced by the Arawak cave paintings in Christoffel National Park. The Spanish came on the scene not long after Columbus discovered the New World in the late 1400's. They served to decimate the population or transport them elsewhere in the Caribbean. The Dutch West India Company brought with it commerce, trading, and slavery in the 1600's, setting up shop with numerous plantations in the capital city of Willemstad. Various crops were grown on the 100 or so plantations through the 18th and 19th centuries, including maize, fruits, and peanuts, but salt mining proved especially lucrative. Many plantation houses remain today, including Groot Davelaar and Landhuis Kenepa, where tourist can learn about African heritage. Forts were also erected to protect the deep harbor and ports, including Fort Amsterdam, Rif Fort, and Fort Nassau in Willemstad, the latter which resides on a hill overlooking the city, making it a great spot to enjoy outstanding views. The British, also in the Caribbean during the colonial period, vied for trade routes with France and the Netherlands, and Curaçao came under their control on a couple of occasions. The Treaty of Paris in 1815 saw the return of Curaçao to the Dutch from the British (though the English language took hold), while post emancipation of the slaves (1863) saw a big decline economically, with many former slaves emigrating to places like Cuba. Things turned around in the 1900's with Venezuela's discovery of oil and Curaçao played a part in its refining. Curaçao is a stable and fairly prosperous place today, with banking and tourism both big industries, although it lags behind neighboring Aruba significantly. An economic slump has seen much emigration of locals to other regions in the Caribbean and the Netherlands itself. Though the islanders rejected full independence from the Netherlands in 2005, the dissolution of the Netherlands Antilles in 2010 saw Curaçao become a country within the Kingdom of the Netherlands. Along with the forts and plantation houses are many noted historic landmarks, including the Mikve Israel Emanuel Synagogue (1732) and the Queen Emma Bridge (1888). Popular museums to learn more of the history of the island include the Museum Kura Hulanda, which focuses on slave trade, and the Maritime Museum, both in Willemstad.
Culture
The culture of Curaçao lends itself to many backgrounds, with the island home to a majority of Afro-Caribbean, along with Dutch, French, Latin American, and Asian folk. There is also a significant Jewish input. Though English is widely spoken, the native tongue is Creole of Portuguese descent. Dutch and Spanish can also be discerned in everyday conversations. With its mostly Dutch upbringing, Curaçao retains a distinctive air in its architecture. You will notice this especially in Willemstad, with its typical multicolored, Dutch-style building. The cuisine is a mixture of the various peoples, with Dutch goodies and seafood particularly prominent. The best way to get a feel for the Afro-Caribbean heritage is to attend one of the festivals. Carnival is a big hit with locals and tourists alike, and shows off the dress, drumming music, and dance of the Afro-Caribbean locals.
---
Read more