Availability
We are sorry, there are no rooms available at this accommodation at the moment
General
300 sqm, plot about 1250 sqm, only 9 min from Ibiza town.
For Sale beautiful villa with a beautiful palm-tree garden – San Rafael Ibiza
9 bedrooms
3 kitchens
4 bathrooms
Separate apartment above 2 large rooms, kitchen, bathroom, terraces
Downstairs: 6 bedrooms, dining room, hallway, hallway living room, 1 bathroom
next door: 1 bedroom incl. Kitchen, bathroom, small room
2 fireplaces
Carport
Small gym and storage room
Pool 12 x 4 meters to bulge and color changer
LED garden lighting
Automatic watering
gas central heating
Energy-saving climates
Wifi in all areas inside and outside
SAT (German / English / Spanish)
Palm garden with orange and lemon apricots, figs and almond trees
Cistern
Ready furnished. Each room downstairs has its own entrance from the garden.
Outdoor bar with BBQ area
Covered terraces
well maintained
Just 9 minutes from Ibiza town, this beautiful villa with a beautiful palm-tree garden, orange, lemon, apricot and fig trees is in SAN RAFAEL
On the ground floor there are 6 bedrooms, 2 bathrooms, 1 kitchen, 1 dining room and a hallway living room with fireplace. Everything is very tastefully decorated and renovated in 2017.
Each bedroom has TV and Wifi. A cozy terrace invites you to linger.
From the garden you get to the upper floor, there is a beautiful big
Apartment with 2 large bright bedrooms, a kitchen and a large bathroom with bathtub, air-conditioned.
From the terraces you have a view of Ibiza Town and at night the illuminated castle.
Next to the house is a guest or staff apartment, cute and stylish with a large brick bed, television, wifi, and a modern kitchenette, air-conditioned.
The large swimming pool 4×12 meters with a bulge for sitting is great for night swimmers, since equipped with a color changer.
There is also a large barbecue area with a cozy outdoor bar and a small GYM and a storage room for garden tools. There is also a cistern in the property and a carport.
The beautiful garden is automatically irrigated with timer and is equipped with LED lighting.
The house can be handed over completely furnished.
The bus stop is just 5 minutes walk away, the school is 12 minutes walk and the town of San Rafael is 2 minutes by car.
Price on request only
Facilities
Air Condition
Bar
Fitness
Kitchenette
Outdoor pool
Private bathroom
Seating area
Shops
TV
Valet parking
Washer
WiFi
We are sorry, there are no reviews yet for this accommodation.
Ibiza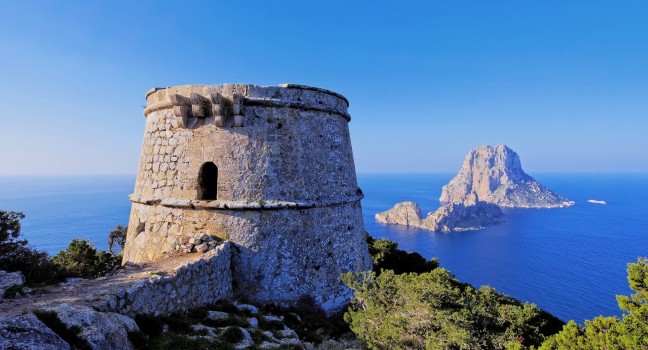 Ibiza is the height of exclusivity and luxury and the island is well established as the perfect location to enjoy the best the world has to offer. From the all-night raver, the boho-cool hippie chick, the sexiest babe on the beach – Ibiza is all this and more to those who have a soft spot
Sports & nature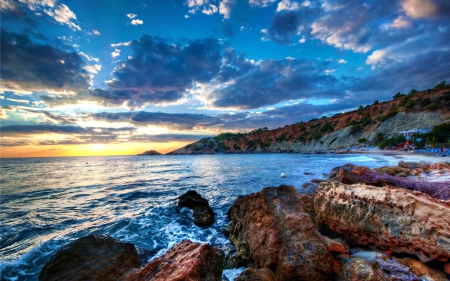 In the more inland areas of Ibiza, there are many hidden spots of great charm; small country villages, almond groves, olive trees, and carob trees enclosed by ancient stone walls, along with many fine examples of the island's particular architecture. A stroll or a bike ride are two great ways to enjoy this scenery. You cannot fail to be amazed by the sunsets on the horizon or the appeal of the little islands that surround mainland Ibiza. In particular, es Vedra, in the town of Sant Josep. The prairies of Posidonia form part of our natural landscape and of our culture. One cannot imagine our island without its fields of Posidonia, since they define and shape both the sea beds and coastline of our island, and also the particular features of Ibiza's waters. For this reason they were given the status of World Heritage Site by UNESCO in 1999.
Nightlife info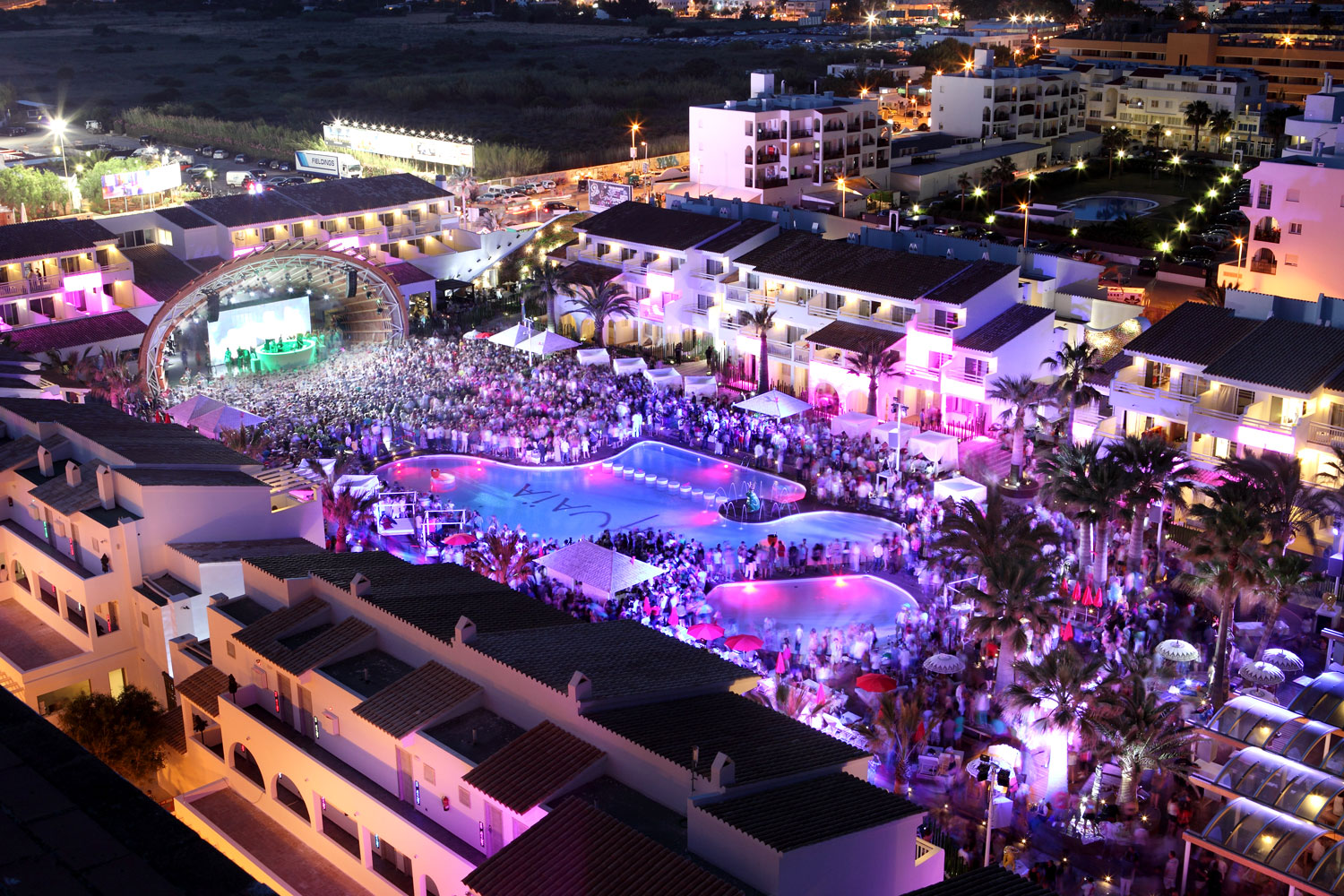 There is no doubt that Ibiza is the capital city of fun. Here you will find the very best nightlife and the best clubs and DJs from all over the world. The island bars and discos offer more than just music. They also put on incredible and fun audiovisual spectacles which are advertised in the streets around the port of Ibiza. In consequence, it is not unusual to find celebrities soaking up the atmosphere on the terrace bars and in the discos on the island.
Culture and history info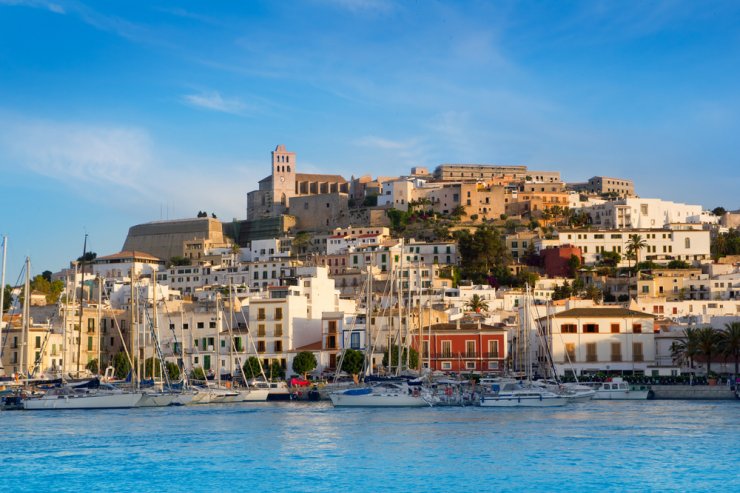 History of Ibiza
Ibiza has been attracting a cosmopolitan crowd for centuries – Romans, Greeks, Moors, Phoenicians and Catalans all visited the White Isle, some arriving to trade and relax in the clear warm Mediterranean waters, others with conquest in mind. Due to its strategic position between mainland Spain and Africa, Ibiza was highly prized as a colony and trading post and was visited by the Ancient Greeks and later ruled by both the Carthaginians and the Romans. The island fell briefly into the hands of the Vandals, and later the Byzantines, before being ruled for many centuries by the Moors – who were in turn conquered by the Catalans in 1235. Kings James I conquered the island in 1235 and ordered the deportation of the local Muslim population and Christian colonists brought in from Girona. The island maintained its own self-government in several forms until 1715, when King Philip V of Spain abolished the local government's autonomy. During the early 20th century members of the avant-garde and, in particular, the Surrealist movement were drawn to Ibiza where they established alternative lifestyle communities based on intellectualism and creativity that were to later lay the foundations for the influx of hippies and beatniks during the 1950s and 60s. All of these influences are still visible and celebrated today, as seen in Ibiza Old Town, which exudes a thriving artistic heritage as well as a number of weekly craft markets held across the island. The arrival of democracy in the late 1970s led to the Statute of Autonomy of the Balearic Islands and today the island is part of the Balearic Autonomous Community, along with Mallorca, Menorca and Formentera. In recent years Ibiza has been associated with its famous club scene (infamous if all tabloid newspaper stories are to be believed) and the modern invasion of international party people that ritually descend on the island during the summer months, although the government is keen to attract more salubrious tourists and has passed local laws requiring all new hotels to be five-star and all nightclubs to close by 0600 at the latest. Did you know? • In 1969 the feature film More was filmed on the island and features a soundtrack by Pink Floyd including a track called Ibiza Bar. • Large areas of the island as registered as UNESCO World Heritage Sites, including the famous God's Finger in Benirràs Bay. • Ibiza is one of many places thought to have been the birthplkace of Christopher Columbus and a monument in his honour can be found in Sant Antoni.
Ibiza Culture
Religion:
There is no official religion, but the majority of the population is Roman Catholic.
Language in Ibiza
While Castillian Spanish is the principle language of most of
Spain
, on
Ibiza
the official language is Catalan which has its own local dialect known as Ibicenco. Road signs are generally in Catalan, though maps are generally in Spanish with occasional Catalonian translations so visitors should be prepared for places to have two slightly different names.
---
Read more