Thailand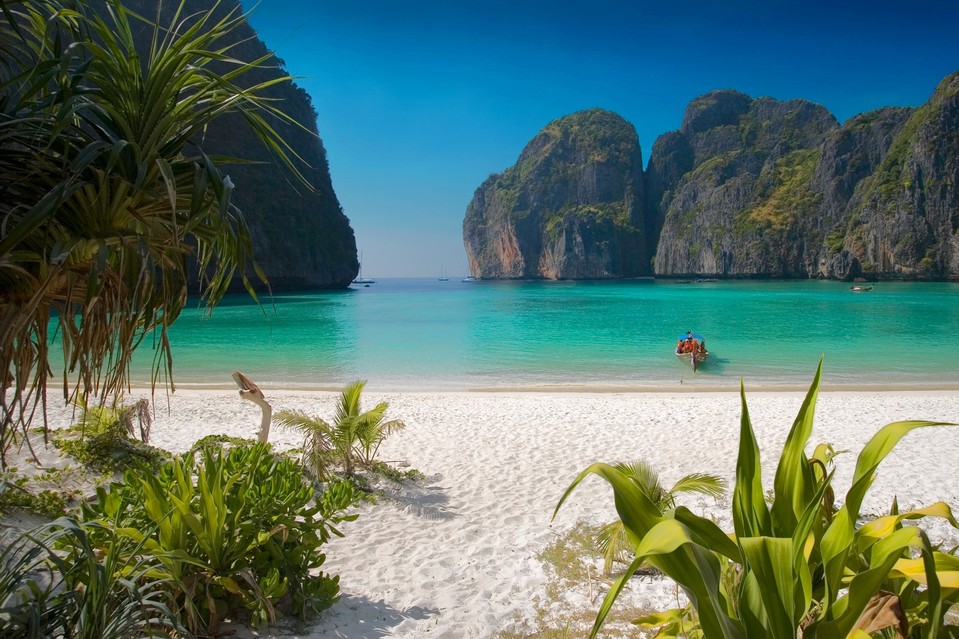 Geography
Thailand has a land area of 513,115 sq.km.(approx. 127,008 acres) bordered by Malaysia (South), Myanmar (West & North), Laos (North & East) and Cambodia (Southeast). The country's east coast borders the Gulf of Thailand and the west coast abuts the Andaman Sea. The country is divided geographically into four main zones-the fertile central plains, dominated by the Chao Phraya River; the 300-metre-high northeast plateau, the kingdom's most barren region ; the mountainous North; and the tropical southern peninsula.
Climate
The temperature varies from 38°C to 19°C with the annual average at about 29°C. The humidity is from 66% to 82.8%.
Seasons
There are three seasons in Northern, Northeastern and Central Thailand – hot (March to May), rainy (June to October), and cool (November to February). And there are two seasons in the South – rainy (April to November) and hot (December to March).
In the North and Northeast in winter, the temperatures are much lower during night time, especially on the mountains, with temperatures lower than 10°C.
Population
Total : 64,785,909
Male : 31,845,971
Female : 32,939,938
**Note** The total population includes only permanent residents.
People
75% Thais, 11% Chinese, 3.5% Malays, and others are Mons, Khmers, Burmese, Laotians, Indians and a variety of hill tribes.
Language
Thai is the national language. English is widely understood in Bangkok and big cities.
Religion
Buddhists 94.2%, Muslims 4.6%, Christians 0.8%, others 0.4%.
Government
Thailand is a constitutional monarchy headed by King Bhumibol Adulyadej or King Rama IX. The country comprises 77 provinces, each sub-divided into amphoe (district), tambon (subdistrict) and muban (village).
Capital
Bangkok
National flag
The red, white and blue bands symbolize the nation, religion, and the monarchy respectively.
Largest provinces
Nakhon Ratchasima 20,493 sq. km., Chiang Mai 20,107 sq. km., Kanchanaburi 19,483 sq. km.
Largest islands
Phuket 543 sq. km., Chang 429 sq. km., Samui 247 sq. km.
Highest peaks
Doi Inthanon 2,565 m., Doi Pha Hom Pok 2,285 m., Doi Chiang Dao
2,195 m.
Principal rivers
Chi 765 km., Mun 750 km., Nan 740 km., Chao Phraya 370 km. or 1,110 km. if the Nan, its main tributary, is included.
Electricity
220 volts 50 cycles throughout the country.
Water
Drink only bottled or boiled water.
Clothing
Light, cool clothes are highly recommended. Thin cotton is the best. A jacket or sweater may be necessary in the cool season, especially when you are in mountainous areas in the North or Northeast.
Local time
GMT + 7 hours.
Business hours
Government offices open from 08.30 to 16.30 hours, Monday to Friday.
Banking hours : Monday to Friday, 08.30 to 15.30 hours
Most business offices open from 08.30 to 17.30 hours, Monday to Friday.
Some work on Saturday.
Telephone services
1. Local calls
All telephone numbers for local calls, long distance calls within the country and all mobile phones have nine digits, starting with 0.
• For Bangkok calls, it is 0 + 2 + numbers, e.g. 0 2250 5500.
• For provincial calls, it is area code + numbers, e.g. 0 5323 6400 for Chiang Mai (053 is the area code for Chiang Mai) ; 0 7623 6400 for Phuket (076 is the area code for Phuket).
2. International calls
• The international dialling code for Thailand is 66.
• To direct dial a foreign number from a private phone, dial 001 + country code + area code + telephone number.
Note: For useful numbers in Thailand, see Useful Calls.
Major agricultural exports
Rubber, sugar, rice.
Major manufactured exports
Computer and computer accessories, cars and spare parts, gems and jewellery, petroleum products, plastic resin, chemicals and integrated circuit.